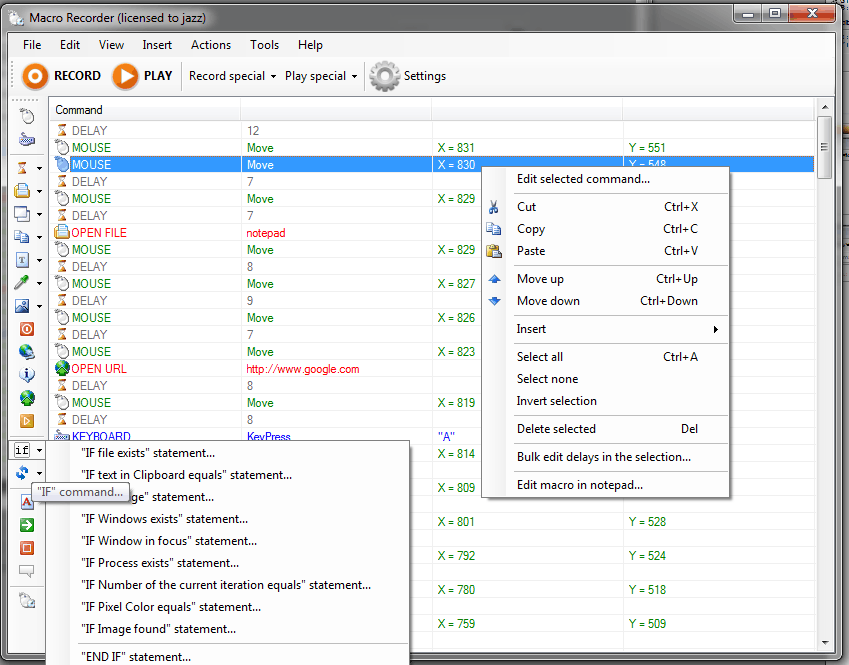 Simply what this program does is, it records everything u do such as KeyStrokes and Mouse Movement and You can Play it back.
Its very usefull for repetitive Tasks
JitBit Macro Recorder is not only a keyboard recorder, mouse recorder and player, but also a powerful automation script editor. All recorded keystrokes and mouse activity can be saved to disk as a macro (script) for later use, bound to hotkeys, extended with custom commands or even compiled to an EXE file (a standalone Windows application). This macro recording program will save you a lot of time on repetitive tasks. Use our Macro Recorder to automate ANY activity in ANY windows application, record on-screen presentations and tutorials.
Macro Recorder easily automates your routine tasks
With this keyboard and mouse recorder you can easily record your routine tasks. Or create a macro from scratch using the macro editor and built-in commands like "open file", "shutdown" and even for-loops and if-statements! Make your own programs and scripts - no programming skills needed!
Benefits:
* Macro Recorder features extremely easy and straightforward user interface. Forget about hours wasted on reading lengthy manuals. Start using Macro Recorder in seconds. Just click "Record" and perform some activity.
* Macro Recorder is Flexible: edit your macros using the built-in full-featured Visual Macro Editor, enjoy the full windows-shell integration and scheduling
* Insert custom commands and statements into your macros: "launch website", "open file", "wait for window", "goto", "shutdown" and many more. Add logic to your macros using the "IF - THEN" statement, "REPEAT X TIMES" statement.
* Convert your macro to an EXE file which runs on any windows-compatible computer, no installations needed. To save space and improve performance the resulting EXE file is packed and compressed using the advanced optimization techniques.
* Accessible: assign macros to hotkeys and run it from any application
* Variable playback speed, macro recording filters, loop macro playback, "stealth-mode" recording and more customizations
* Debug your macros: insert breakpoints, play partially or loop your playback.
* Human-readable macro file format, plain text script easy for editing in external editors
* FREE version-upgrades, bug-fixes and online support for registered users
* SMART-Rec macro recording technology
Possible uses:
* Automate all kinds of repetitive tasks: auto-fill forms, generate reports etc.
* Automate software testing
* Perform system maintenance with Macro Recorder
* Use Macro Recorder as a keyboard tracer
* Auto-login to your online accounts (web-mail, forums), or use it as an auto-clicker.
* Create tutorials and presentations with Macro Recorder.
* Any task, which requires you to record your keystrokes, including passwords and "system" keys (ctrl, alt, numlock, shift etc.), record key combinations, record mouse movements and clicks
Download:
JitBit Macro Recorder 3.64
Global Helper





Number of posts

: 179


Age

: 35


Location

: Indonesia


Mig33 Name

: boys.cry


Registration date :

2008-01-19










GREAT SOFTWARE BROTHER

COOL FOR KICKING

Administrator





Number of posts

: 198


Age

: 27


Location

: South Africa


Mig33 Name

: h4ck3r.-.phoenix


Registration date :

2008-01-16




---
Permissions in this forum:
You
cannot
reply to topics in this forum